October 24 - 27, 2022
Join us at ICMI Expo 2022 in Orlando. Be there this October as contact center industry professionals move forward together—as an industry collective—to tackle the challenges and opportunities for 2023 and beyond that will enable positive growth and change in our industry and beyond. Recharge, refocus and reinvent yourself and your organization at ICMI's Contact Center Expo!
With rapid change affecting contact centers more than ever, there's one thing call center professionals can be sure of: the knowledge you gain at ICMI's Contact Center Expo will help you move your contact center forward. Expert and experienced, our keynote speakers will heighten you and your team's awareness around the pillars of success: organizational excellence, unflappable leadership, and a healthy, productive culture. Our learning tracks are designed for you and your team to tackle the topics that matter most to you. Mix and match sessions amongst the tracks to create your own personalized expo experience!
Be in the company of and share ideas with like-minded contact center professionals, ranging from Supervisors, Managers to Directors, to VP and C-Level attendees, who want to share best practices, solve problems and learn from each other.
September 12 - 15, 2022
Meet us us at the PCC Americas Conference 2022. We are a proud Sponsor of the Event. Experience the ability to network with your peers from partners across US and Canada that bring their real-life Avaya and Customer experiences to the conference. Attending the conference provides you the opportunity to influence the development of new Avaya solutions, tools, processes and services through discussions with Avaya Subject matter experts. Avaya Executives will share the latest information and initiatives, corporate direction and goals.
Omni-Channel Experience with Conversational AI - Live Demonstration included
Please to our Webinar with a live demonstration of a Multi-Channel Customer Experience including Virtual Assistants (bots) and a streamlined journey to help a customer and an agent solve a complex problem.

Webinar Recording now available, see link below
Many organizations are providing rudimentary Virtual Assistants (chat bots) to their web sites in the hope of a better and less costly Customer Experience.A stand-alone Assistant without the training required to make improvements and the added support of communicating with live agents ends up being a less than stellar experience. We will demonstrate a complete customer journey with Conversational AI technology, combined with CCT's ContactPro Omni-Channel Desktop. Along the way, we will show how we've incorporated "best practices" for developing and training AI capabilities and what a true Multi-Channel Experience can do for your business.
Please join us for this informative webinar. Don't forget to ask questions and challenge some of the brightest minds in the contact center world.
Solutions and expertise for your success
CCT is leading the way in Multi-Experience customer engagement solutions. CCT helps companies communicate with existing contact channels and next generation customer interactions.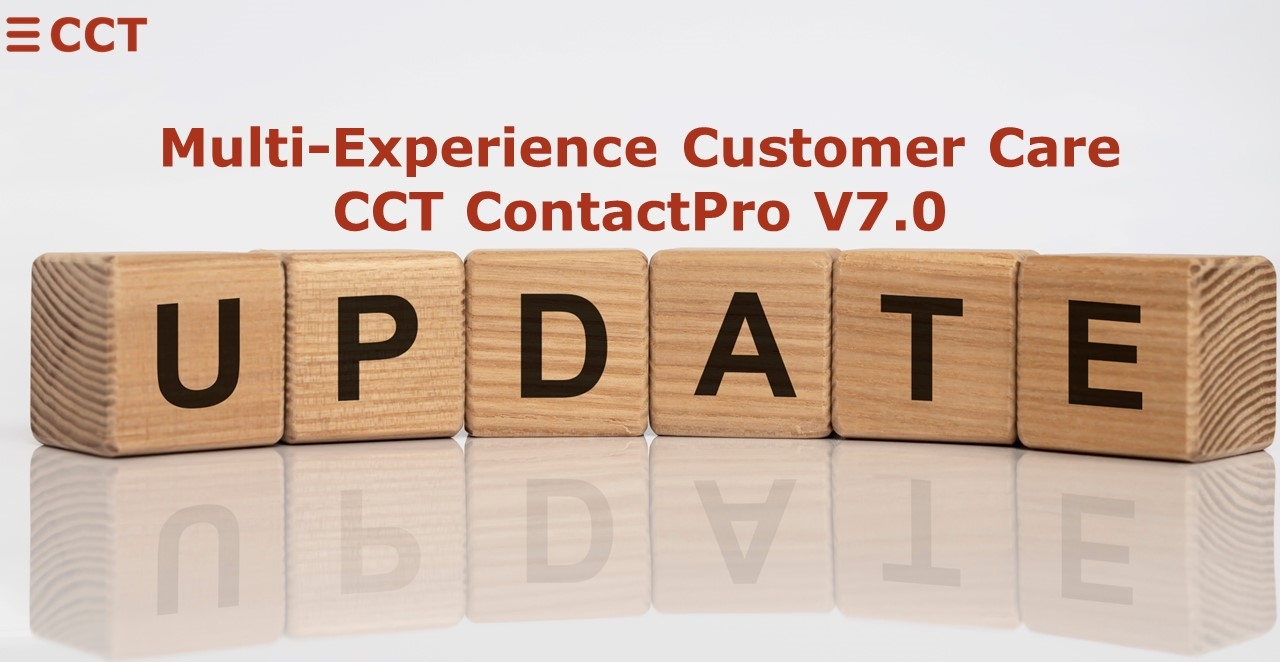 What's new ? Multi-experience customer service solution with ContactPro Version 7
Optimize and expand your customer service and sales processes with the new capabilities provided by ContactPro v7.0. CCT Solutions expands the ContactPro portfolio with many valuable and useful additions, such as increased automation for your customer service processes and virtual assistants (bots) for enhanced customer and agent experiences. We cordially invite you to our webinar to present the latest added features and functionality.
ContactPro now integrates the most modern Cloud UC platforms with RingCentral Messaging/Video/Phone or Avaya Cloud Office solution
- Flexible and easy connection to modern voice cloud & carrier infrastructures
- Integrated IVR, ACD and reporting functions - Integration with Microsoft Teams
Automation - update - virtual assistants, bot integrations with Google CCAI (Dialogflow) & the Cognigy customer service automation platform
Integration of work processes with the Open Task Routing function
- Create and process any activity or task in our Open Task integration with the ContactPro Unified Desktop Web Client
ContactPro Compact Phone
- Use of a compact telephone (web or app) for employees in the UC office space
New digital channel modes with integrated use of telephony
New ContactPro Customer Management module
- Organization and Contact Management with integrated customer identification and Customer Journey
ContactPro & Microsoft Teams
- Intelligent connection and full use of Microsoft Teams environment with ContactPro
- Presentation of solutions in the area of telephony, IM and presence.
ContactPro Analytics / Reporting
- The NEW Analytics Report Designer
- Create and share your own reports how and where you want. Use "all" interactions & customer data in multiple formats and distribution mechanisms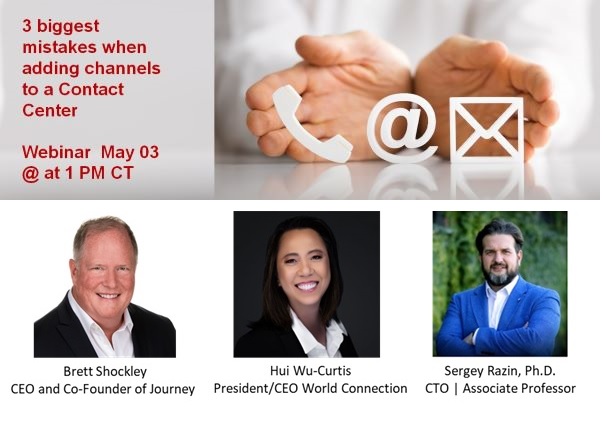 Three Biggest Mistakes When Adding Channels to a Contact Center
Please listen to our Webinar, learn How to Avoid costly mistakes when adding channels to a Contact Center led by some of the Contact Center industry's brightest

When adding channels such as Chat, Text and Video, to a predominantly voice contact center, the decision making process for what and how is complex. What are the best practices for evaluating solutions that are just the right fit for your operational needs and technology requirements? Major transitions like these require carefully gathering inputs from stakeholders, both internal and external. How do you go about designing these solutions without falling into traps?
We would like to share some specific insights on how to avoid mistakes, or at least make them less costly and time consuming.
Solutions and expertise for your success
CCT is leading the way in Multi-Experience customer engagement solutions. CCT helps companies communicate with existing contact channels and next generation customer interactions.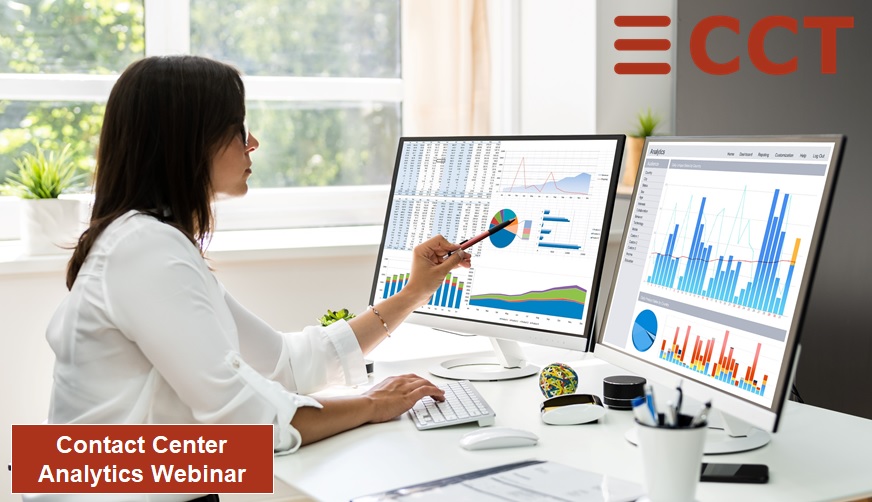 Contact Center Analytics Webinar 03/30 at 1PM CT
Please listen to our Webinar recording, learn how ContactPro Analytics can improve Reporting and Analytics for your Avaya Contact Center.

In this session you will learn about:
- A next generation solution that provides easy to use and robust reporting for your Avaya Contact Center
- Demonstration of the real-time and historical reporting capabilities
- Demonstration of the Analytics solution that will allow you to accelerate your understanding of your contact center for better management decisions.

Solutions and expertise for your success
CCT is leading the way in Multi-Experience customer engagement solutions. CCT helps companies communicate with existing contact channels and next generation customer interactions.
Meet us at Enterprise Connect
21-24 March in Orlando, FL

at our booth #1541
Automated interaction solutions with CCT ContactPro Omni & Conversational AI for an excellent customer experience, cut cost, increase revenue and manage customer satisfaction easily.
New technologies are emerging that will impact your enterprise's communications and collaboration. Keeping pace with all these changes while still meeting the responsibilities of implementing, integrating, and managing is a daunting task. For more than 30 years, Enterprise Connect has been the place where the Enterprise IT community gathers for in-depth, objective, vendor-neutral expertise.
For registration at Enterprise Connect please use the discount code: CCTSOL
This will give you $500 off the current rate on the Entire Event and Tue-Thru Conference passes.
Meet us at IAUG - AVAYA ENGAGE 2021
December 12-15, 2021 | Orlando, FL
Avaya ENGAGE connects you to the products, solutions, people, and ideas that are advancing the communications technology industry.
Four days of insightful keynotes, practical learning labs, vendor presentations on the latest technology and products, and face-to-face discussions with the leading industry thought leaders.
PCC EMEA Autumn Conference
Cannes, France
7 - 10th November, 2021
We look forward to seeing you live again in France.
The PCC EMEA and Avaya invite you to the Autumn 2021 Conference from 7th – 10th Nov, 2021 in Cannes, South of France.
Learn about our new solutions that can increase the revenue with your installed base and creates new green field opportunities for your business.

We are happy to be personally available for you and are at your disposal for any questions and information.
IAUG - Webcast
1st
September
2021
The changes of customer behavior and technology during the past years provide a unique opportunity for contact centers to modernize their customer experience, agent workspace and security posture with solutions that easily integrate into existing systems. Please join this educational webinar covering market trends and capabilities of secure biometrics and omni-channel workflows.
In this session, we'll discuss:
• Using biometrics (facial, voice, fingerprint) for secure voice and chat interactions.
• Improving bot containment with more secure transactions like PCI compliant payments.
• Enabling contextual screen pops for transfers from voice bots and chat bots to live agents.
• Logging customer journey and context in CRM applications to unlock advanced analytics.
• Utilizing biometrics internally to confirm the identity of at home and offshore agents.
• Increasing outbound live answer rates via pre call SMS and application notifications.
Speakers:
Duke Bond - Director of Sales, Americas, CCT Solutions
Brett Shockley - CEO, Journey ID
Uwe Kreuter - CEO, CCT Solutions
Alex Shockley - President, Journey ID
Julie Runda - Marketing Director, Journey ID
CCT ContactPro Omni V6 is now available see an update on whats new !
Webinar June 17th at 1PM U.S. central time
we are very excited to announce CCT ContactPro Omni V6 general availability. Please join us for a session to see our smart enhancements and intelligent handling capabilities, to rise customer satisfaction, cut cost and drive revenue growth.
Here are some of the new incredible feature highlights:
Modern Browser based Web Client for all Channels with WebRTC

Support for Avaya & Multivendor

Voice Inbound and Outbound Campaign Management
Integrated Callback with IVR and Web featuring
New Channel integration for SMS Inbound and Outbound

Integration of WhatsApp Business Gateway support

ChatBot enriched with Conversational AI Integration

with Cognigy AI and Google Dialogflow

Support for Avaya Aura 8.1.3 Support (DevConnect compliant) Avaya WebGateway Support, Avaya POM 4.0 Support
Dashboard, Wallboard and Reporting with enhanced ContactPro Analytics Browser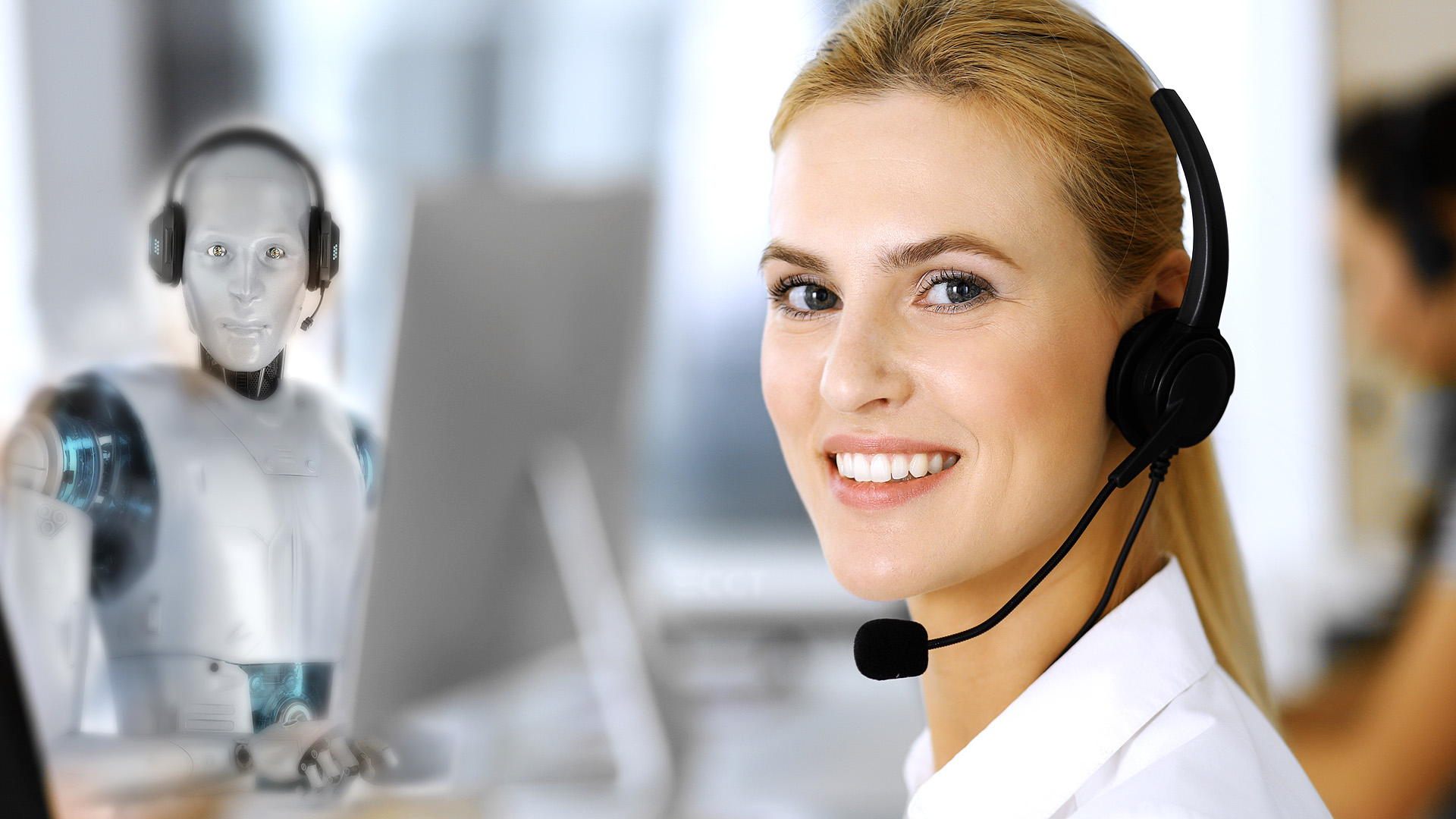 Bots, Bots, Bots: Improve Customer Service with AI & Omni-Channel
Webinar May 21st at 1PM U.S. central time
Thank you very much for your interest in our recent webinar
Bots, Bots, Bots: Improve Customer Service with AI & Omni-Channel.
Please find a link to access our video library with this webinar recording
https://cct.cct-solutions.com/en-en/video-library-restricted
CCT is committed to protecting and respecting your privacy, and we'll only use
your personal information to administer your account and to provide the products and services you requested from us. From time to time, we would like to contact you about our products and services, as well as other content that may be of interest to you. If you consent to us contacting you for this purpose, please use the from below, you
agree to receive other communications from CCT
You can unsubscribe from these communications at any time. For more information on how to unsubscribe, our privacy practices, and how we are committed to protecting and respecting your privacy, please review our Privacy Policy.
By clicking submit below, you consent to allow CCT to store and process the personal information submitted above to provide you the content requested.